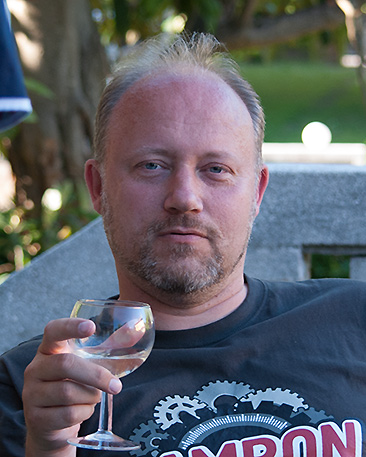 Welcome to my website. I'm Niclas Fogwall. It has passed 20 years since I surfed the web for the first time. It was long before Google, Youtube and Facebook appeared. It was a time when the internet was more of a playground for the academic world. Back then, in 1994, Steve Jobs had not yet returned to Apple, Netscape had not yet become the #1 browser, and the dot-com bubble had not yet started to expand. The internet was fresh, innocent and unexploited. Since then, I have made quite a lot of contributions on the web which I gladly share with you here. I live with my wife and kids in Lomma, a suburban coastal village in southern Sweden.




Content
My music - In the early nineties, when I was a university student, I composed hundreds of piano pieces for relaxation and to find inner peace. I have made available a selection here on this website. Many consider my music beautiful and soothing. I hope you will enjoy it too.
Erik Satie - French eccentric composer of hauntingly beautiful piano works. His music has inspired many and can be regarded as medication for the soul. My contribution on the web started in 1996 when I launched an extensive website about him which turned into a community and source for musicologists and Satie fans.
Robert Caby - Another French composer, hardly known outside Paris, but a dear friend of Satie, Poulenc, Picasso among others. Here I describe my production of the very first recorded album (from 2001) of the piano works of Caby, performed by the pianist Olof Höjer. Includes an extensive biography as well.
Architecture - I was hooked on the beauty of architecture in my youth. I made detailed drawings of imaginary buildings. Here I share an article I wrote in 1999 about Swedish national romantic architecture, inspired by fairy tales and old craftsmanship from the renaissance period.
Digital pianos - It started as a hobby of mine, and I'm nowadays working in the business. This article of mine from 2001 focuses on a since long discontinued piano module by General Music, called RealPiano Expander, partly based on physical modelling where the sound is created through mathematical formulas.
Notation indexes - Imagine you are listening to a musical theme and you fall in love with it. But you don't know the title or the composer of this particular piece. Denys Parsons and others solved this problem by constructing their own notation indexes, described in this article of mine (from 2001).
The flag of Scania - In the most southern part of Sweden, you will find a region called Scania. The region has its own flag, often appearing in public. In this newly written article, I describe its history and contemporary use, with a reflection of Scania's dark history, marked by the wars between Denmark and Sweden.
Swedish - Are you new to the Swedish language? Or maybe not acquainted with the language at all? Then this newly written article of mine is for you. In six short lessons, I describe how to avoid typical mistakes committed by foreigners speaking Swedish.
Ukraine - I have been to Ukraine and Russia several times, and feel a lot of sympathy towards the peoples and cultures. This newly written article of mine explains why there is a conflict and war in Ukraine, and in what degree Russia is involved.
Netscape - Anyone who experienced the web during the mid-nineties can tell about Netscape. It was the only browser that really counted, and which became the starting shot of the dot-com bubble. In this newly written minor article, I describe the downfall.
Headphones - This rather intimate tool to listen to audio in all forms is constructed in many shapes and sizes. I make great demands on the audio quality, and have therefore tried many of the best ones. In this newly written minor article, I present the ones I use myself.
The Y2K bug - Many experts warned during the nineties that the year 2000 would start with a giant system crash causing serious interruption and chaos. Authors made money on the subject. Here I describe the story and the final outcome, and what the book reviews said.